BP Insanity: Negotiating Their Own Punishment
If the Obama Administration passes a bill to stop new offshore drilling permits in the Gulf of Mexico, BP asserts they may fall short of the $20 billion oil spill compensation payments they agreed to pay its victims.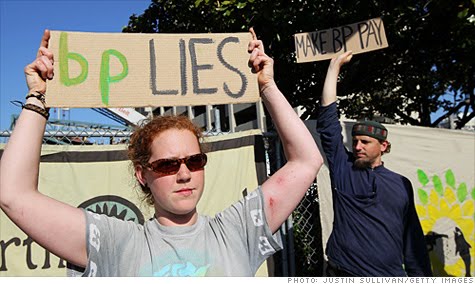 When BP agreed to set aside $20 billion for Gulf Oil Spill clean up and victim compensation, the Obama Administration also permitted BP to pull those funds exclusively out of the revenue made from their Gulf of Mexico operations.
If new offshore drilling permits are no longer available to BP, particularly in the Gulf of Mexico, their revenue from Gulf operations will obviously go down.
Naturally, BP is attempting to use this detail to its advantage. BP suggests that losing the ability to gain new offshore drilling permits in the Gulf will hinder their ability to fully fund the $20 billion set aside for oil spill recovery.
In other words, BP must continue creating new offshore oilrigs in the Gulf of Mexico to solve the problems caused by their oilrigs in the Gulf of Mexico. Convenient.
Now that BP is presenting their case in this way, it puts some of their past generosity into perspective. Months ago, BP voluntarily agreed to help fund organizations and projects that were beyond their legal obligation, seeming to show the company had some sense of environmental and moral responsibility.
That generosity is now coming off as a blatant bargaining chip. BP can look to the future and see where things are headed, so why would we put it past them to present generous offers only for the chance to bargain with them later?
The oil giant's track record proves that, even when punished and reprimanded, they do not change their ways. Since the explosion on the Deepwater Horizon, BP has done nothing but present information that would be refuted later on.
This issue would not hold so much weight if the Obama Administration would stop bargaining with BP. Instead of providing objective judgment and valid punishment, the government is working with BP to figure out the best solution for everyone. This is the equivalent of a young child negotiating his punishment for acting out towards his mother. It just doesn't make sense.
BP brought in revenue of $33 billion worldwide in 2009. Their operations in the Gulf of Mexico only account for around 11% of BP's global production. Why, then, would the Obama Administration allow BP to fund the victim's compensation exclusively with revenue from Gulf of Mexico operations?
Although BP is blatantly responsible for the oil spill and the ensuing complexities, the Obama Administration has only presented the situation with more complications.
Resources:  The New York Times,  " BP Says Limits on Drilling Imperil Spill Payouts."    Steven G. Brant, "Did BP Just Blow Up the Obama Presidency?" 
4 Responses to BP Insanity: Negotiating Their Own Punishment