Advertising in Your Twitter Timeline
Say goodbye to your advertisement-free Twitter feed.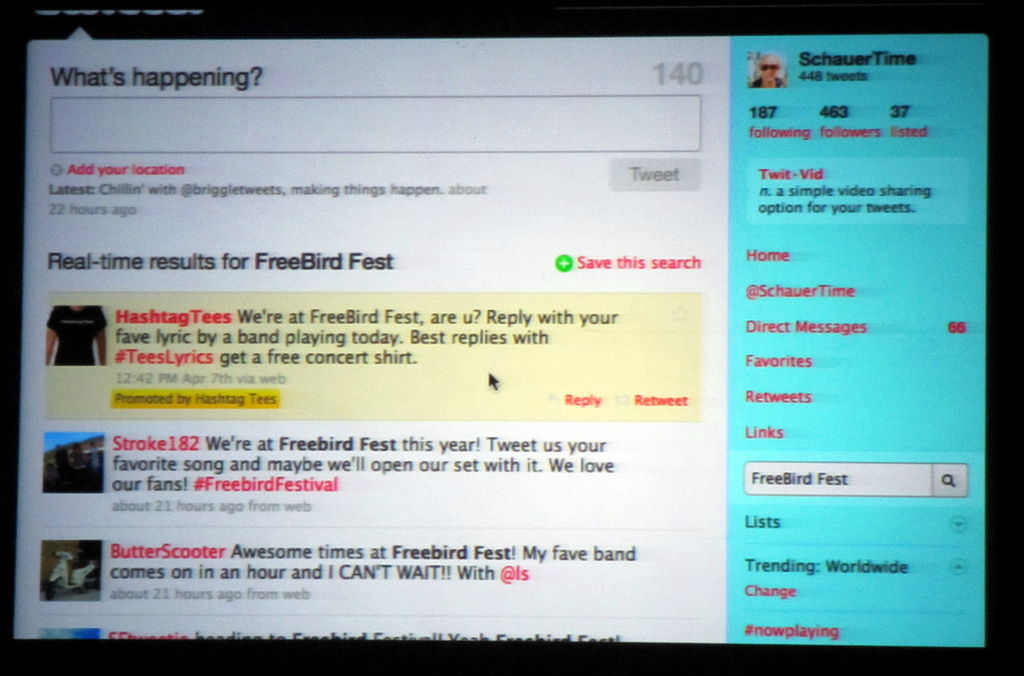 Starting today, Twitter members will be seeing advertisements directly in their timelines (also know as Twitter Feeds). You will only see the advertisements if you use HootSuite, a type of third-party Twitter software, but the inclusion of advertising in Twitter feeds will eventually roll onto Twitter.com and into your timeline.
According to AdAge.com, companies like Red Bull, Starbucks, and Virgin have already purchased Twitter advertising space. Up until now, the extent of Twitter advertising was the inclusion of "Promoted Tweets" and "Promoted Topics," but they weren't integrated in timelines. The new ads will appear as "tweets" to Twitter users who follow members with keywords relating to those products, or whose accounts consistently use those keywords. For example, someone who talks a lot about energy drinks on their Twitter account will receive ads for Red Bull.
Twitter has struggled to maintain its status as one of the top social networks without creating serious sources of revenue, but how long could that last? Obviously, Twitter needed to make a shift towards monetizing their popular site, considering it is the 9th most popular website in the world, according to Alexa.
The real question for Twitter was how they would advertise without disrupting the flow and popularity of the site. In my opinion, including the advertisements directly in users' timelines is a bit intrusive, but I haven't seen it in action. Imagine if Facebook removed their ads from the right side and integrated them into your Facebook feed. If the key to advertising successfully is to make it non-intrusive, Twitter's attempt at monetize their efforts will not go over well.
At this point, most of the 175 million Twitter users will not see ads in their feeds. With time, more third-party providers will integrate the advertising until the third-parties aren't necessary and the ads simply show on everyone's Twitter feeds.
Hopefully, when the advertisements begin appearing to a majority of Twitter users, the ads will be well directed to the correct demographics. I honestly wouldn't mind receiving ads for things I enjoy, but it also depends on how constantly the ads appear.
Do you think Twitter's approach to advertising will be too intrusive? Let us know on Facebook!
Tweet
4 Responses to Advertising in Your Twitter Timeline