Toxic Red Sludge in Hungary
A Toxic Red Sludge spill killed four, destroyed villages, and made its way to the massive Danube River affecting multiple nations.
In Hungary on Monday a reservoir break spewed out a torrent of toxic waste, destroying a nearby town, wreaking havoc on the marine life in the local streams and creeks leading to Eastern Europe's massive Danube river and killing at least 4 people according to Yahoo! News and the Associated Press.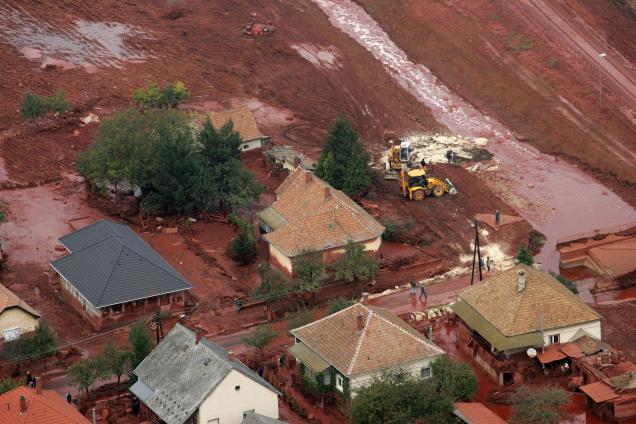 On Thursday the spill had finally reached the Danube, Europe's second largest river, leading downstream nations to check the safety of their water supply.
The European Union fears that this will contaminate nearly half a dozen nations' water supply with red sludge, which is a waste produced when making aluminum.
Serbian, Romanian, and Croatian officials have been taking pH samples of their water supply every three hours. Hopes are high that the massive amount of water in the Danube will dilute the toxic content provided by the spill.
The Hungarian Rescue Agency spokesman Tibor Dobson said the pH content of the red sludge, after entering the Danube, had lowered considerably and was most likely not going to cause further damage to the environment.
Because of the sludge's heavy metal concentration it is still considered very dangerous according to the Hungarian Academy of Science.
The sludge first entered the Marcal River, which is 25 miles long, and then moved from Kolontar into the Raba River and then into the Danube, according to Tibor Dobson.
At the meeting place of the Raba and Danube, emergency teams have been pouring vinegar and plaster into the water to help lower the pH levels which have increased due to the spill.
The Danube River is Europe's second largest, with a span of 1,775 miles, it flows through Croatia, Serbia, Romania, Bulgaria, Ukraine and Moldova before it reaches The Black Sea.
"This is an unprecedented disaster in Hungary." Hungarian Prime Minister Viktor Orban stated on the tragic events that unfolded this week. He then went on to say "If this had happened at night then everyone here (Kolontar) would have died." "This is so irresponsible that it is impossible to find words!"
Local officials declared 34 homes in Kolontar unlivable but the general consensus of the people affected is that the entire village's land, a population of about 800 people, is now worthless.
Only a week prior to the spill, Hungarian environmental authorities declared that the reservoir was safe according to the Kolontar Mayor, Karoly Tili.
2 Responses to Toxic Red Sludge in Hungary