Facebook Profile Changes Seem Pointless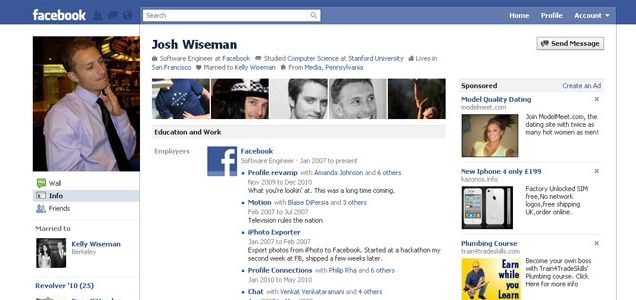 Facebook's re-design of its profile page has so far been met with harsh criticism, and for seemingly good reason. As pointed out by PaidContent.org, Mark Zuckerberg enjoyed a pointless interview on 60 Minutes that simply re-hashed the details we know about him and introduced the minor changes to the Facebook profile page.
I am instantly reminded of LeBron James's television special through which he betrayed his loyal Cleveland fans and announced his move to Miami in front of the entire world. There was no reason for it except to appease a massive ego.
The changes to Facebook are minor and few, essentially making the site more visually appealing. New additions to the Facebook profile page include:
-Your name, location, school, and work posted at the top of the page.
-A row of the most recently tagged photos of you under that initial information.
-The navigation tabs are now located under your profile picture.
-You can now highlight your favorite friends.
-Share projects you've completed at work and add people who worked with you
-Interests are shown through pictures, not links.
-You can choose which interests to share and which to hide.
The Facebook changes seem more like rearrangements. Information was moved, navigation was moved, and pictures became more prominent. In other words, it's the same Facebook profile page, except now you can talk more about work and pick out who your favorite friends are. Oh yeah, and now you can hide your embarrassing interests in Twilight and Justin Bieber. Either way, the changes to the Facebook profile did not merit an interview on 60 Minutes. As a result, the interview rehashed details we already know too much about.
According to Facebook users posting comments on the Facebook blog, the new profile "overhaul" is not very popular. The most common responses were Facebook users asking to revert back to the previous profile design. Unfortunately, other complaints outlined that users who shift to the new profile design can't shift back. Users also commented that they don't care about pictures that much and that the new Facebook profile overhaul just allows for larger advertisements.
It's interesting when Facebook gets so much attention for such small changes, especially considering the numerous alterations and updates they make to the social network on a consistent basis. But when people spend hours on the site every day, these changes can be both significant and helpful. Unfortunately, this Facebook profile redesign leaves too much to be desired – even if all we desire is the old profile layout.
Have you made the transition? What do you think of the new Facebook profile page?