Xbox Kinect Releases Tonight: Go Get One!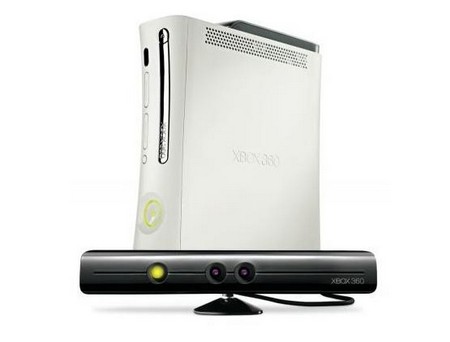 Video games have made a huge impact in recent years, with some mainstream video games surpassing the revenue made by major Hollywood films. Tomorrow, video games will move beyond simple motion controls and take yet another leap into the future with Xbox Kinect.
With Xbox Kinect, YOU are the controller. Instead of using any standard, handheld video game controller, you simply stand in front of the television. Xbox Kinect uses a type of sensor field that will read when a human is standing in front of it. When you stand in front of the Xbox Kinect, your body will appear on the screen, moving with your own physical movements.
This unique device is going to expand the potential of video games much more than the Nintendo Wii. With Wii, you simply move remote controls that work with a sensor bar in front of the screen. With Xbox Kinect, your entire body is integrated into the game as a controller.
If you are playing a soccer game and you are standing in front of world-cup-clinching free kick, you will literally pretend that you are kicking a ball in order to win the game.
We already posted some videos of Xbox Kinect here on 1stworldview.com, but you can visit YouTube.com and search "Xbox Kinect" to watch more. Xbox Kinect will not only transform the industry as a whole, but will refresh specific game concepts like working out, bowling, basketball, ping-pong, racing, and even river rafting.
The Xbox Kinect will be sold at $150, a little more than consumers and especially avid gamers expected. The original prototype of the Xbox Kinect was worth $30,000, according to Wired.com, and the device is being sold at a somewhat steep price. You wouldn't think so immediately, but when you compare it to the Nintendo Wii and the new Playstation Move, you might have some reservations backing Xbox.
In our opinion, the Xbox Kinect will dominate Wii and PS3 Move very swiftly. While prices do make a difference, innovation takes precedent. The idea that you can stand in front of your television and be placed inside of a video game has never been done, until now, and it will make avid gamers like myself very interested.
Although I am a huge fan of 1st-person shooters like Call of Duty: Modern Warfare 2 and Halo: Reach, I am still desperately interested in trying out the Xbox Kinect. It's true that shooters like these probably won't translate well to the Kinect, but that isn't a problem. Certain games are made for a controller and will never work without a controller; serious gamers know that. It's the idea that things are progressing into something new, something mind-boggling, and something forward-thinking.
Xbox Kinect might not bring us directly into a World War II or Sci-Fi Fantasy shooter, but it's definitely getting us closer, and that's enough to get excited about.