Use Marco to Find Your Friends – or Just Call!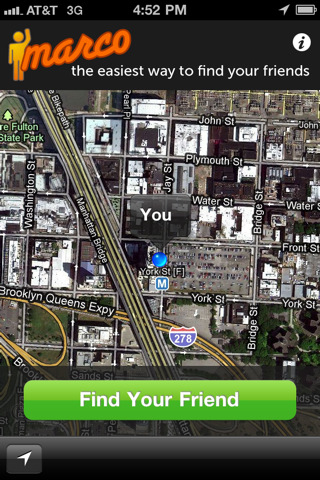 Have you ever arrived at a crowded restaurant or bar to meet a friend and just couldn't find them? Maybe you tried to meet at a picnic in the park, or at an amusement park or music festival, and spent twenty minutes wandering around awkwardly trying to find them.
With the new app called Marco, that problem is solved. When you download Marco from the Apple App Store or the Marco app home page, www.usemarco.com, you will be able to pinpoint your friend's location in an instant (as long as they agree to it).
Marco is a social GPS application that allows you to pinpoint the exact location of another person who is using the same application. If you arrive at the crowded club and everyone's there already, you just have to request their location to find them.
With Marco, you simply send a request to the friend you are looking for. Assuming they have downloaded Marco, your friend simply accepts your request and their location is clearly displayed on a map. From there, you can move closer and closer to your destination until you find the friend you are looking for. The app even tells you the exact distance you are from the person you're looking for.
Marco is great to use at parties, sporting events, concerts, festivals, the movies, restaurants, and anything else that involves meeting up with someone you know. Obviously, you need their permission to see their location. What makes Marco a solid-working app is that it is limited to connecting only two people at one time, and for a limited amount of time.
I personally think this kind of application is a perfect example of the wave of apps that seem cool at first, but lost their luster quite quickly. Now that apps are so popular, everyone is making one, whether it's helpful or not. If you are constantly trying to meet up with people at conventions and other public events, but have trouble finding them, it makes sense. But for restaurants and bars?
Continually, technology is bringing people closer together and tearing them apart at the same time. We have gotten to the point where people are using GPS maps and applications to locate their friends instead of just talking to them on the phone and saying, "we're next to the big yellow beer sign" or "just take a right when you walk in, you'll see me." I can see why Marco is a catchy, fun-to-use application, but it's also symbolic of how much less we need to communicate face-to-face or voice-to-voice.
I love technology, obviously, but apps such as this (and many others, even discussed on this website) seem like overkill.
What do you think? Would you use Marco?
4 Responses to Use Marco to Find Your Friends – or Just Call!