England Shows Obama a Yellow Card
WORLD CUP PREDICTION: 
USA Defeats ENGLAND in FINAL:  2-1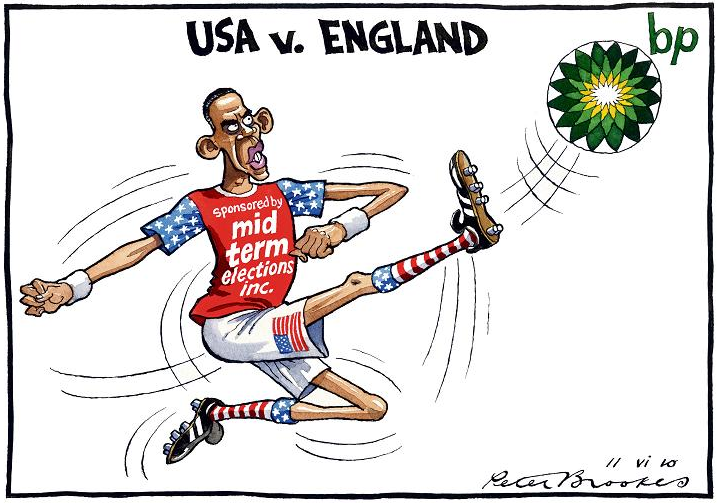 UK Fueling Tension
The Times of London published a cartoon depicting U.S. President Barack Obama kicking a soccer ball, represented by the BP logo, and wearing a U.S. soccer jersey with some politically charged text.
The jersey Obama wears is possibly the most significant comment the piece makes.  It reads, "Sponsored by mid term elections inc."
A majority of Americans were unhappy with Obama's response to the BP oil spill crisis. In response, he took a strong stand against BP and demanded they step up in their recovery efforts and payments.
Many people, including the artist of this cartoon, believe Obama took this harsh approach towards BP and CEO Tony Hayward only to appeal to the US electorate, since mid term elections are well on their way.
The natural connections that have developed between the BP oil spill and the upcoming Fifa World Cup match between the United States and England are hard to ignore as tensions rise and BP continues to struggle with the spill.
The USA vs England match on Saturday will be soaked in tension no matter how many people relate the game to the BP oil spill. 
Sports are supposed to be a way to escape reality, but once in a while, they take on so much more.
As the World Cup begins today, oil from the British Petroleum (BP) oil rig Deepwater Horizon continues to spill at unprecedented rates into the Gulf of Mexico, and onto United States' shores. 
Many Americans have criticized the British energy company for causing this spill, failing to stop it, and showing a lack of urgency in providing financial reparations for the damage to wildlife, industries, and the environment.
The Fifa World Cup does not capture the attention of Americans as it does the rest of the world, but many American non-soccer fans will be watching as the United States take on England in the first round on Saturday in hopes of achieving some form of revenge. 
Considering the British passion for soccer, I would say that a U.S. upset on Saturday would be more than just a little shove back.
Some people may look at the intensity surrounding the game, due to the oil spill, as a problematic and inappropriate response.  I see it as another way to fuel the passion for the tournament.
This tension also pints out the important role sports play not just in our society, but in the world. Even during a crisis as major as the BP oil spill, we are looking to sports to settle our differences.  If there is a sport that fuels more worldwide passion than any other, it is Football ie. Futbol ie. Soccer.
If Americans want to get revenge on their UK counterparts, I'd rather see it occur on the soccer field than in reality.
Amazing NIKE ad shows why the world calls it "The Beautiful Game"
48 Responses to England Shows Obama a Yellow Card