LiveFootballChat.com for Live Super Bowl Conversation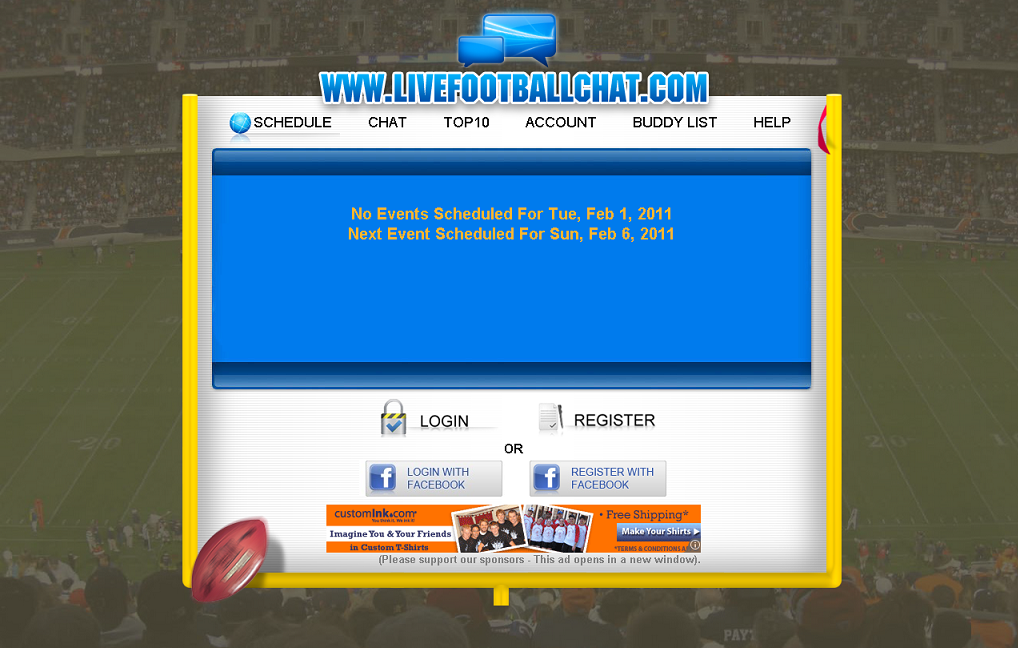 One of the best parts about watching sports is talking about them with your friends, but sometimes you find yourself either sitting alone in your living room with nobody to talk to or talking back and forth with one, maybe two, of your close buddies in a chatroom, Skype, or on your phone.
With LiveFootballChat.com, you have the chance to discuss NFL games live, while they are happening, with fellow fans and random rivals.
LiveFootballChat.com comes from the same guys who gave you LiveBaseballChat.com. Dean Collins got tired of chatting only with a friend or two during games. He also felt that discussions on Twitter consisted of people simply shouting things at each other, as opposed to having real chats and conversations. It's understandable – you can't really have a conversation on Twitter. He wants to connect with other fans that feel as passionate about their sport as he does, without hunting down random fans on Facebook.
Once LiveBaseballChat.com was created, it was only a natural progression that he would create the same style website designated to other sports, like football. From there, LiveFootballChat.com was born.
With the Super Bowl just days away, LiveFootballChat.com is growing fast. No matter where you live or what team you support, LiveFootballChat.com will connect you with other football fans live during the game. It will also connect you with their insight and opinions, whatever they may be. The beautiful part is that you can challenge their ideas while presenting yours, in a conversational way.
LiveFootballChat.com is free, and you can even use your Facebook account to log on instantly. If you don't have a Facebook account, or don't want to use it, you can create a new username and password for free; that username will work on all of the LiveChatConcepts websites. The live chats begin 30 minutes before each game and continue for 30 minutes after each game. This might limit your discussion once the game is over, but if you really want to keep it going, just exchange Facebook names and continue it there. It's a lot like a social network, though, allowing you to add new friends and connect with them during the next game.
I sent some questions to the creators of LiveFootballChat.com and received some interesting insights. First of all, they want to keep things quick and totally in your browser, but will be creating downloadable clients in the future. They are working on making the site smoother on smartphones, allowing you to keep conversations going even if you are watching the game at the bar or at a friend's house. They are a little hesitant to give too much away at this point, but it seems like there will be more websites, and more sports, to come in the near future. At this point, they have created twelve chat sites that include baseball, football, racing, soccer, hockey, basketball, and more. Visit LiveChatConcepts.com for the entire list.
The Super Bowl is coming, so log on to LiveFootballChat.com, register, or sign in with your Facebook account. Either way, log on to LiveFootballChat.com 30 minutes before the game to get a truly interactive Super Bowl experience. Whether you want to connect with fellow fans or talk trash to opposing ones, LiveFootballChat.com is the place to be while you enjoy the game.
3 Responses to LiveFootballChat.com for Live Super Bowl Conversation