A Foreign Affair Takes Dating International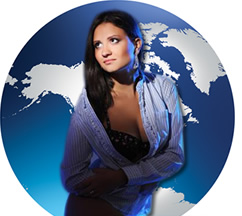 A Foreign Affair is the world's top international introduction and romance tour service and has been successfully bringing singles together since 1995. AFA provides features such as email correspondence, live phone translations, and a huge database of profiles. They also provide the industry's best romance tour packages that give men the chance to explore new countries and meet the women who live there. The company has grown significantly in the last ten years and was recently featured on the National Geographic Channel in the reality show, "Bachelors Abroad."
Aside from offering the largest selection of romance tours in the world, A Foreign Affair provides its clients with the best and most comprehensive set of online features to allow them the chance to find and communicate at their own pace. Although the stigma of "mail order brides" is often affiliated with AFA, the features and tours they provide prove that times have changed and that meeting people from other countries for romance is not so far-fetched. Some of the most popular features include online email correspondence, live phone translations, letter translations and an online gift shop. From the AFA website, you can also purchase the AFA Tour DVD, Foreign Bride 101, electronic translators, and many other helpful products. When it comes to dating internationally, A Foreign Affair has all the angles covered.
AFA owns and operates offices in almost all of their tour locations, but their main office is located in downtown Phoenix, Arizona. AFA is always ready to welcome past, present, and future clients into the office to answer questions, provide needed information, or just talk about their experiences. At A Foreign Affair, customer satisfaction is the top priority.
In 1995, three single men were looking for a new direction in their lives – Kenneth Agee, John Adams and Ron Redburn. They decided to start a business built around the substantial computer programming skills of founding member Ken Agee. Ken's original idea was a computer dating network between bars and restaurants in the Phoenix metro area, but as the days rolled past, advanced brainstorming between Ken and Ron brought the idea of a world wide computerized international matchmaking organization to the forefront. Long days and long nights followed, but on Saturday, February 10, 1996, LoveMe.com was registered with Register.com, Inc. and became the first Internet-based International Marriage agency in the world. Since then, owners John Adams & Ron Redburn, along with Chief Technical Officer Ken Agee and Sales Manager Bud Patterson, have all found and married Russian brides with the services of A Foreign Affair. These men are proof that international dating with AFA is one of the best dating options available today.
A Foreign Affair has been recognized around the world and in many forms of major media. Most recently, the company has become the focus of a new reality show / series on the National Geographic Channel entitled "Bachelors Abroad." The show follows a select set of American bachelors, all part of an AFA romance tour, as they explore the foreign cities and meet the available women who live there.
A Foreign Affair has been featured on 60 Minutes, Inside Edition, Men are from Mars Women are from Venus, TV.COM, The Maury Povich Show, The X-Show, as well as news programs on all the major networks including; ABC, CBS, NBC, FOX, A&E, and BBC. Some of the printed media that have featured stories about AFA are TIME Magazine, The Washington Post, The New York Times, Maxim Magazine, Penthouse, Marie Claire, Saturday Night Magazine, St. Petersburg Times, The Philadelphia Inquirer, The Arizona Republic, and many others. We have also been featured on numerous radio programs including Loveline and the USA Radio Network.
To learn more about A Foreign Affair and to book your very own international romance tour, please visit www.LoveMe.com.
2 Responses to A Foreign Affair Takes Dating International