Home Elephant: Meet Your Neighbors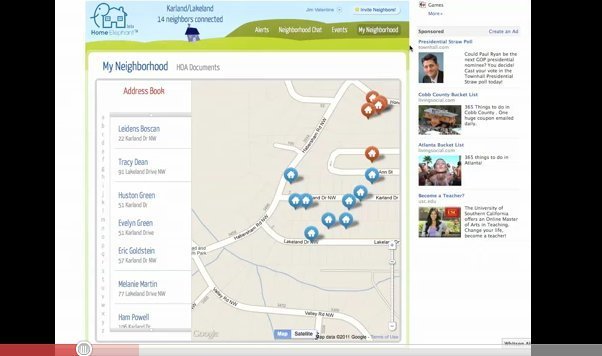 Social media has created more communication in our world, but has cut down on the personal interactions we have with others. We might have more "friends" than we've ever had before, but how many of them can we truly call friends?
Social media is an amazing phenomenon, but it is creating a social atmosphere that exists only in cyberspace instead of creating a social atmosphere that exists in the real world. While face-to-face interactions diminish more and more with the growth of the social media world, some new social applications are fighting against this trend.
A new website and application called "Home Elephant," found at www.HomeElephant.com, is using social media to bring us face-to-face with our neighbors.
Home Elephant is a new application that assists you in locating, meeting, and interacting with your neighbors. Once you log on to the site (you can use your Facebook account), you can find your house or apartment and join your neighborhood. Once you have joined, you will be able to connect with other people living in your neighborhood who are using Home Elephant.
Within your neighborhood on HomeElephant.com, you can send messages, post updates, and get the latest scoop on what's going on in your area. How might you use Home Elephant? Your dog ran out the front door and down the street, so you post a message asking your neighbors to keep an eye out. You are planning a garage sale, so you let your neighbors know when. You see there is new construction at the freeway entrance nearby, so you post an update for your neighbors. You need an extra player for your weekly softball game, so you post and ask your neighbors if anyone wants to play.
Home Elephant is a great idea because so many of us go through years in a home or apartment without meeting our neighbors, often moving away before we even get the chance. With technology keeping us indoors so often, meeting and getting to know our neighbors is not as common as it used to be.
The website uses your IP address to validate your location, and to deter hackers from logging in and out of random neighborhoods. Being able to sign in with your Facebook login information makes getting started easy, and best of all, the entire application is completely free to use.
Social media programmers and start-ups need to strive towards releasing more applications like this one. Home Elephant is using social media to fight the negative effects of social media, and that is a genius idea.
What are some other ways we could use Home Elephant?
How to Use Home Elephant

One Response to Home Elephant: Meet Your Neighbors